Barra de Búsqueda
La barra de búsqueda general permite encontrar cualquier tipo de información en cualquier lugar en archivos de genealogía abiertos y en la propia aplicación Ancestris.

Descripción
Campo de entrada
El campo de entrada se utiliza para introducir el texto que se va a buscar.
Al pasar el mouse sobre este campo, se muestra información explicativa sobre herramientas e indica el método abreviado de teclado Ctrl + I para mostrar el historial de búsqueda.

Lista de Resultados
La búsqueda de la cadena de texto escanea:
todas las entidades de las genealogías abiertas (individuos, familias, notas, fuentes y archivos multimedia),

y la propia aplicación Ancestris: menús y ventanas, y preferencias (también llamadas opciones).
El resultado de la búsqueda es una lista que se clasifica en las siguientes secciones:
Búsquedas: Resultados entre el historial de búsquedas
Individuos: Resultados de tipo individual
Familias: Resultado del tipo familia
Notas: Resultado del tipo nota
Fuentes: Resultado del tipo fuente
Medios: Resultado del tipo multimedia
Acciones: Resultado del tipo acción en un menú de aplicación
Registros: Resultado del tipo registro de registro
Preferences: Ancestris Preferences type resut
For each item, the first 7 results found are displayed, the eighth line being the continuation of the list "...".

A click on
a line selects the corresponding entity.
The searches are stored in the search history. Subsequent searches performed also search within the stored list.
Search Criteria
The magnifying glass to the left of the entry field lets you to check or uncheck the type of results you want to limit the search to.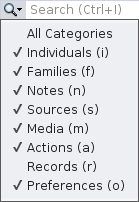 You just have to check or uncheck the corresponding categories.
Usage
Performing
a search
There are two ways to do this: with the mouse, or with the keyboard shortcut.
Use the mouse to go to the general search field of the Toolbar and start entering a text to search for.
Alternatively, type Ctrl + I at any time in Ancestris. The cursor will position itself into the field and the result of the previous searches is displayed:

As you type, the result is displayed without having to type Enter.
If you know exactly in which sections you want to search, uncheck the other sections in the search criteria.
Select a result
At any time, select a result.
If you do not see what you are looking for in a result section, you can click on the continuation line "...".
At this time, only the matching items are displayed:

Results can come from multiple Gedcom files. You can see in the picture above that the list of individuals includes individuals from the Bourbon genealogy and individuals from the Kennedy genealogy.
If too many results appear, refine your search.
If the result you expected is displayed, select it with a click.
If an entity is selected, it is instantly displayed in the currently open views, and this entity then becomes the active entity.
If an Ancestris action is selected, it is immediately launched.
If an option (preference) is selected, the corresponding window is displayed.